This article is part of a series on: Making Money Online with Freelancer.com
A case study of earnings: I have randomly picked Almir as a case study to see the earning potential for people looking for work on Freelancer.com. Almir stated location is Serbia. Core skills are listed as "2D drawings in AutoCAD and 3D modeling in 3ds MAX."
Earnings between 6-Sept-2013 to 10-Dec-2013 (95 days):
CAD: $35
USD: $1520
AUD: $90
GBP: £185
Total in approximate US dollars: $1938.81
The earning period was 95 days gross. Assuming not working on weekends, that is 69 work days.
$1938.81 / 69 days = $28.01 US dollars per day earnings.
Now the whole year. Taking off all the weekends and say 4 weeks vacation, the work year is 241 days long.
$28.01 US per day X 241 days = $6750.41 US dollars gross earnings in one year.
Can you live of that? Maybe not, but maybe it's not full time either. Let's now consider these numbers in context with the country the freelancer is from. Almir states she works in Serbia. According to Wikipedia Serbia's GDP per capita is $6,014 USD (2013 estimate nominal). By our numbers then, Almir is already earning %12 more than GDP per capita in her country. But, could we safely assume, like many of us, there may be some other revenues from local clients?
What countries is Almir earning from:
Between the period 6-Sept-2013 to 10-Dec-2013 (95 days), what countries has Almir earned the money:
Canada: 2 projects
USA: 5 projects
Singapore: 7 projects
Spain: 1 project
Trinidad and Tobago: 3 projects
Australia: 2 projects
Italy: 1 project
UK: 6 projects
Trinidad and Tobago GDP per capita $20,056 USD (2013 estimate) is the lowest in this list, but still quite high by world standards. Australia is the highest at $64,157.
Pattern: Jobs are posted in high GDP countries for lower GDP countries.
If you are looking for work in a high GDP country and live in a high GDP country you may struggle to make a living solely from Freelancer.com. My simple solution: Move from Australia to Serbia.
Costs for the freelancer
Basic membership is free, but Freelancer.com makes an income by taking fees per project or by upgrading your account to a paid memberships. Project fees are reduced if you have a paid membership. According to Almir's BID on a project, the account has a Standard membership, so her commissions taken from Freelancer.com are reduced.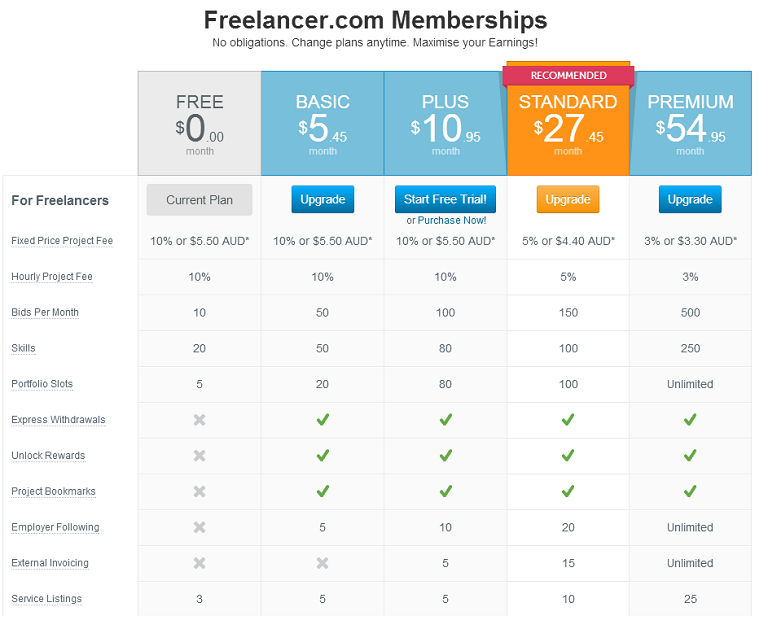 I am guessing the fee structure for membership is different in each country, but in my account standard membership costs $27.45 AUD a month and Freelancer.com fees for fixed priced projects are 5% or $4.40 AUD. Lets work with just the %5 fee and convert to US dollars.
Almir gross earnings per year: $6750.41 US
Membership fee: $25 US per month x 12 = $300 US
Project fees: 5% of $6750.41 US = $337.52 US
Total costs: $637.52
Almir's earnings minus freelancer costs = $6112.89 US.
Therefore Freelancer.com is taking an approximate 9.5% cut. In my country (Australia), agents take a lot higher cuts than this, 30% minimum. 10% cut from Freelancer.com is reasonable.
Next in this series of articles is my third way to make money online with Freelancer.com. My number three money maker: AFFILIATE….